"I've always loved food. Food is about culture. It's a story we all must want to know," is how Dr Julianne Huh stumbled upon reinventing her new avatar as a restaurateur. Ardent traveller, foodie, non-conformist, and mistress of her own fate, it's no surprise that we took to instant conversation like moths to a flame (besides being earth signs with a similar trajectory of life).
A woman can choose to be whoever she wants to be, I've always believed and lived this philosophy. This truth is driven home when you get to meet and know closely former financial maverick, legit global nomad, and now in her current avatar as restaurant owner of Malaysia's chic French Mediterranean Restaurant, 2 OX. Remember to ask Dr Julianne how the restaurant name came to be 😊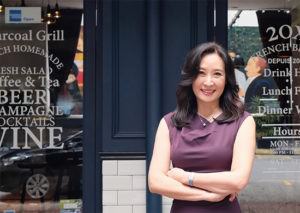 Korea born Dr Julianne Huh is anything but the woman she chooses to be  – Independent, cosmopolitan, savvy, focused, with a strong emphasis on academics, and a symbiotic relationship with finance. When I met her on a beautiful Sunday morning to brunch at 2 OX (54, Jalan Doraisamy, 50300, Kuala Lumpur), a gang of super-bikers were already geared down on beers, charmed and happy with the informal street style Parisian café. As I walked into the plush street with art décor architecture, sunshine flirting through rain clouds and through the doors, Chanel clad Dr Julianne greeted me with a big warm smile and a hug. Charmed and floored in one gesture, I noticed the super-bikers gaping, watching us through the tall wall to floor glass windows, raising their beers in salute. Their Sunday woken up to a kick start 😊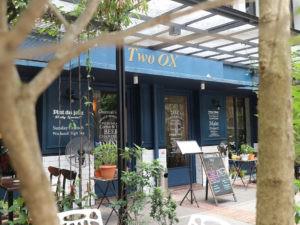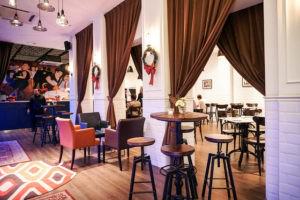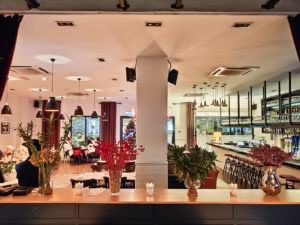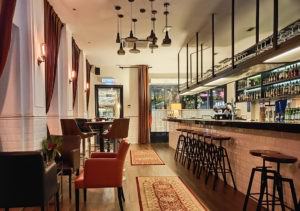 FIRST IMPRESSIONS COUNT
The first impression of  Dr Julianne's labour of love into French cuisine and hospitality, is the expanse of the space spread across approx. 2000 sq ft.  90 table covers paced in a natural balance of social distancing to allow for conversation and intimacy, marble table tops, a blend of industrial chic white tiled interiors, a well spaced bar all of masculine wood and metal tones, a modern French wall mural painted by Beryl Cook occupying focal attention, little art spots on walls, plenty of natural sunlight streaming in from the open ceiling rooftop, delicate glass jars with fragile flowers, French classics and jazz flowing through piped music, and an air of casual sophistication. Relaxed and super comfortable, a chilled flute of Cono Sur Bicicleta Chardonnay set the mood to our lovely afternoon (if it's red wine, Merlot from Chile is also the brunch house pouring wine).
THE CONSUMATE GLOBAL NOMAD
Dr Julianne's life has been anything, but what a traditional Korean girl is supposed to be. Daughter of a diplomat, her father Huh Se Lin was the former Ambassador to Brunei and Consul General in Japan, who was also the Chief negotiator for diplomatic relations with China.
Setting her sights on a life of her own, Dr Julianne graduated from Ewha Woman's University, working with an advertising agency for a while. Moving to the USA to earn a Doctorate in Education from Massachusetts State University, a stint with a Swedish education company in the US, with an opportunity to travel to China. Whilst there, a stint with a hospitality brand in Shanghai came with insights into the dynamics of hospitality.  Coming back to Korea, Julianne's professional career took a new high as VP for Mall of Korea, followed by remodelling and taking over a prestigious Chinese international kindergarten -which grew to be very successful. A nomad on the move, Julianne decided to participate in a joint investment establishing a Korean wedding company, and bringing in the famous Spanish luxe wedding fashion brand, Pronovias. A three year stint later, it was Thailand as VP of a Korean department store within a Thai Mall, pre-opening and opening team. It was on one of her product sourcing travel stints to Malaysia, that an alternate opportunity to acquire a restaurant presented itself to her. A consummate investor, Dr Julianne took up the challenge, bought the restaurant, added touches in the existing interior to give it a warm feeling, and set about redefining a new way of life to suit her new state of mind. French cuisine it was.  "Malaysia does that to you. It seems to bring all global nomads here to experience a different way of life," she confided. As an Asian woman, especially a Korean, succeeding up the corporate ladder comes with a price.  "There is a lot of sex discrimination.  And being surrounded by a very chauvinistic culture, it can be quite difficult to survive in the business world. But perseverance, I think, is the key to a woman's success. We, as women, have to help each other, and also recognise each other to survive in this cut-throat world," she shared, as we sipped on our wines and dug into delicious Appetizers – French Garden Snails on a moist bed of Mushroom and Potato Ragout. Perfectly paired with the white wine and absolutely divine (on the A La Carte Menu). Joining us on this Power Girls Sunday out, was our bestie, Selina Yeop Jr.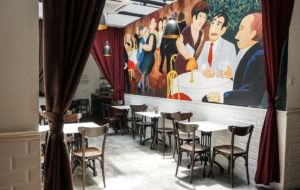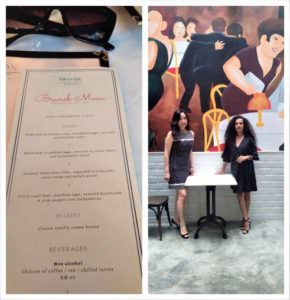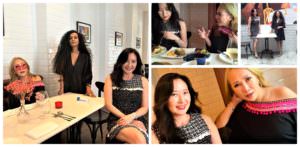 THE WEEKEND BRUNCH
Over two years into the running of 2 OX, and wishing to give a new post lockdown vibe to the brand, the restaurant has re-designed a brand new Brunch Menu (Weekends 11.30am-3pm) to welcome discerning diners and lovers of French food in Kuala Lumpur. The balance in the food pairing with the pricing, is the first takeaway that caught my eye. The afternoon was going to be smashing!
We all know that French cuisine, at its most masterfully executed level, requires a finely honed set of culinary skills. Deft handling of seasoning; perfectly executed components that don't sit too heavy, nor light; creative execution; masterful plating and balanced flavours being some of its fine-tuned characteristics.
First to arrive was the crusty Home-made baguette & pesto – which we dug into as our conversation flowed from one end to the other. The Brunch Menu offers one Mains to choose from depending on personal taste — Flame seared salmon trout, scrambled eggs, avocado and brioche toast / Mushroom scrambled eggs, avocado on toast, basil and watermelon salad / Roasted whole bass fillet, vegetable a la bayaldi, sauce verge and potato puree / Sliced roast beef, poached eggs, sautéed mushroom and pink pepper corn hollandaise.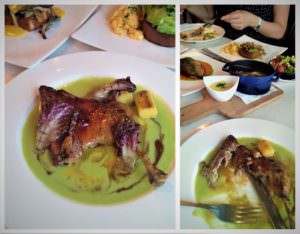 I decided on a blend from A La Carte and a selection of the Brunch menu to allow for diversity. The Sliced Roast Beef  (on the Brunch Menu) was a treat for the hungry. Proportioned just right to please, the meat cooked perfectly, soft and succulent, addressing all the soul spots that need `me time.' I've always said, food is an intimate relationship with Self, meant to evoke pleasure and sensuality. A special mention must be made of my Signature Duck Leg Confit (on the A La Carte menu) which would make my mama very proud (for eating everything without wastage). Cooked to perfection, the meat gliding smoothly off the bone, notes of subtle heat and tangy notes hitting my senses. The genius of Chef Phillippe Murry Dominic playing a symphony in my now excited brain (HIGHLY RECOMMENDED).
For Vegetarians, Selina decided on the Mushroom scrambled eggs, avocado on toast, basil and watermelon salad (Brunch Menu). It hit the right soft notes for easy lunching after a late Saturday night, she announced. Generous portions also complimenting perfect value for money the brunch menu offers.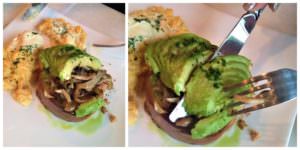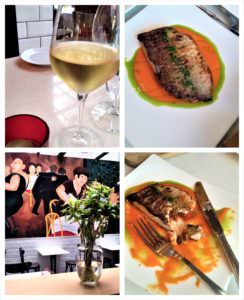 Now, food is best shared in the company of the like-minded, especially when the Roasted whole bass fillet, vegetable a la bayaldi, sauce verge and potato puree (on the Brunch Menu) arrived with a visual treat to boot. The art of food plating perfected by the French, and so thus consumed first for the eyes, then devoured by the soul. I'm a fan of crispy skin (chicken, charcoal burnt beef, fried pork skin and grilled fish) perfectly seared on the fillet, and moist as I dug deeper into the bite. The buttery potato puree like foreplay set to a rainy twilight, and the sauce verge a comforting melange of tangy high-notes to accentuate the salt of the sea. Refreshing and palate cleansing. Verrry sexy.
By now the super-bikers also satiated and gone, our brunch gliding to tea-time, it was a call to drum roll congratulations. A well crafted menu always speaks of well horned culinary finesse. What were Dr Julianne's thoughts on Malaysia's new food philosophy? "Being in Asia, quality of food, hygiene, ingredients, the source from where the food comes from, whether it comes from good farms, the level of pesticides used, is always to be questioned. Malaysia is known for good, local cheap food, but not necessarily quality food. My concern always remains health. Hence, the Malaysian Food Industry must pay attention to quality, and raising the quality of food, and not necessarily on low price, from a health and the future of the population perspective," she elaborated.  With lifestyle diseases on the rise worldwide, and in Asia, quality of food remains paramount to the quality of life in general. Agreed.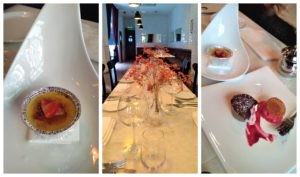 Nevertheless, if you would think us three gals would be dainty with our food, no chance. Not until we dug right in like a deep dive into desserts. It was time to bring out the big guns — The Classic Vanilla Crème Brulee (on the Brunch menu), Dark Chocolate Lava Cake and the Passionfruit Souffle (on the A La Carte menu). A hot menage a trois. Enticingly airy, subtly seductive and heady from the throat to the gut. Well, that's pretty much how I enjoy the experience of food with all of my six senses. If it doesn't stir the soul, it ain't worth the effort. As we oscillated between rapt silence and animated conversation, there was no way I was going to disturb my mental sensations with a coffee or tea or juice (on the Brunch menu) to end these heady proceedings. I settled for none. A battle could be won just on how well you feed the generals, Dr Julianne. Here's to an encore!!
Getting home to early bed and blissful night was part of my prescription to a healthy, wholesome life. Vive la France. God! I love Kuala Lumpur!!
2 OX Weekend Brunch  (Saturday & Sunday) is priced at RM 60.
Call on : 0326922233
Website: http://www.two-ox.com/
Reservations at https://www.tableapp.com/partner/two-ox-therow-jalandoraisamy#/
Food photos: Ethel Da Costa
For collaborations, reviews, interviews, blogs, hospitality staycations, lifestyle content services, connect etheldacosta@gmail.com
FOLLOW my Instagram for daily stories at https://www.instagram.com/etheldacosta/