Did you know that over 150 Indian companies have invested US$ 3 billion in Malaysia, contributing to the creation of over 20,000 jobs in the country? That 250,000 Indian nationals comprising professionals and workers are also contributing to the Malaysian economy. That despite the Covid pandemic, bilateral trade between India and Malaysia has expanded by 26% in 2021 and overall trade touches US $ 17 billion ?
There were more `wow' moments at the National Day Reception hosted by the High Commission of India in Malaysia on the occasion of the 73rd Republic Day of India held at the Kuala Lumpur Convention Centre. Celebrations assumed special significance this year as India celebrates 75 years of independence i.e., Azadi Ka Amrit Mahotsav.
Attended by over 500 dignitaries and guests which included prominent business, community, associations, government and cultural  leaders in Malaysia, the celebrations were officiated by Chief Guest, YB Datuk Seri M. Saravanan, Minister of Human Resources, Government of Malaysia.
Also in presence were YB Dató Sri Alexander Ananta Linggi, Minister of Domestic Trade and Consumer Affairs, YB Tan Sri Dató Sri S.A.Vigneswaran, Prime Minister's Special Envoy to India and South Asia and YB Senator Dato' Dr Nelson Renganathan.  Several Ambassadors, High Commissioners, former Ministers, deputy Ministers and several other distinguished guests took part in the event.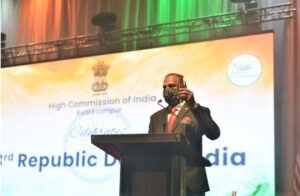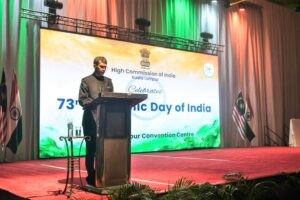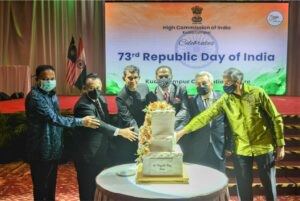 Commending on the deep bond of friendship shared by India and Malaysia rooted in people-to-people linkages, High Commissioner of India H.E. Mr B N Reddy spoke about enormous opportunities to elevate bilateral relationships between India and Malaysia by taking advantage of strong complementarities between both the countries. "This year marks the 65 years of establishment of diplomatic relations between India and Malaysia. It is also the year of 30 years of ASEAN development partnership. This bond of friendship goes far beyond the establishment of our diplomatic ties in 1957. The Bujang Valley in Kedah remind us of the intrinsic links India had with the Malayan Peninsula for millennia. With the passage of time, our bonds grew organically and intertwined, as can be seen in the cuisine, language and culture here," Mr B N Reddy said in his opening address to the august gathering.
Adding that "The 2.7 million strong Indian diaspora in Malaysia forms the bedrock of our mutually beneficial engagement today. This people-to-people connect is an inalienable and firm part of our Enhanced Strategic Partnership with Malaysia," the High Commissioner of India in Malaysia stated.
Elaborating on India raising its healthcare infrastructure and its vaccine leadership with the development of its own indigenous vaccine `Covaxin,' to battle Covid, along with the world's biggest on-going vaccination drive in India with over 1.65 billion doses already administered, Mr B N Reddy touched upon India's leading global growth in the post pandemic world with the fastest growth rate among the large emerging economies; and the innovation and technology transformation undergoing in India driven by the Aatmanirbhar Bharat initiative of the Hon'ble Prime Minister of India.
"We have covered 93% of our adult population with the first dose, and 70% have been fully vaccinated, " Mr B N Reddy asserted, elaborating "India has supplied vaccines under 'Vaccine Maitri' and other medical help to 74 countries, and will be producing 5 billion Covid-19 vaccine doses during this year which will be available for the world."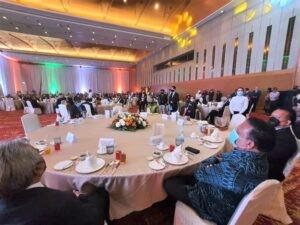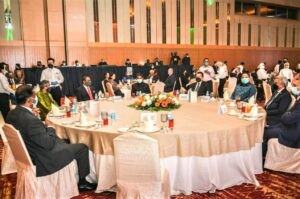 Continuing to share that India had launched the most transformative and comprehensive reforms since its independence in the face of adversity presented by Covid, the High Commissioner asserted confidently that, "the country has shown relentless focus on reforming every economic sector and providing a helping hand wherever necessary. It is a testimony to India's spirit that the economy is projected to grow at an impressive rate of 8.2% during this year, as per World Bank estimates, the highest among the large emerging economies," he stated.
Mr B N Reddy also highlighted on the good presence of Malaysian companies in India who have invested US $ 7 billion both directly and also through third countries. "In recent times, India has emerged as Malaysia's top ten trading partners globally. The Malaysia-India Comprehensive Economic Cooperation Agreement (MICECA) and ASEAN-India comprehensive Agreements on Trade in Goods and Services and Investments continue to promote our bilateral relations, and we see great opportunity to elevate this bilateral relationship taking advantage of strong complementarities between our two countries," he concluded his address enthusiastically.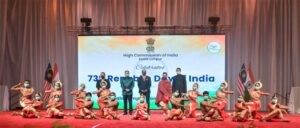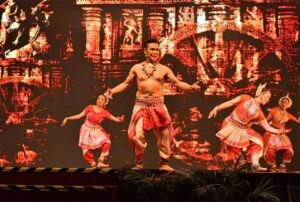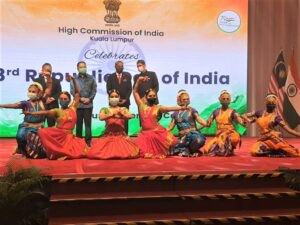 The formal part of the program was followed by classical cultural performances by the students of Temple of Fine Arts presenting "Desh Thillana," a Bharata Natyam performance evoking the feelings of National Piety.  Padma Shri Datuk Ramli Ibrahim and his team from Sutra Foundation presented an Odissi performance "Aditya Archana," an adoration for the  Sun – the source of life and Enchantment of the Supreme Being.
*
*
Connect with The Stiletto Diaries for Reviews/Events/Content/Influencer Brand collaborations at etheldacosta@gmail.com
Work WhatsApp Malaysia +601161781642