There is a premium on Luxury, and the price tag is `quality.'
In a country which has declared an annual 7.6% growth rate, driving a two trillion dollar economy, with a young population of 72% below 32 years (making India the youngest country on the Planet), the future as per Mr Amitabh Kant, CEO, NITI Aayog, and the face behind #MakeInIndia, is bright. Should be, if the country boasts of 27% millionaires in India grown over the last three years, with a steady 10% per year growth in the luxury market.  "Innovation and sustainable development is the core," Mr Kant assured us, adding "India is just beginning," notwithstanding its 70 years post Independence and political instability that has marred the country's will and march to growth and progress.
Mr Amitabh Kant, CEO, NITI Aayog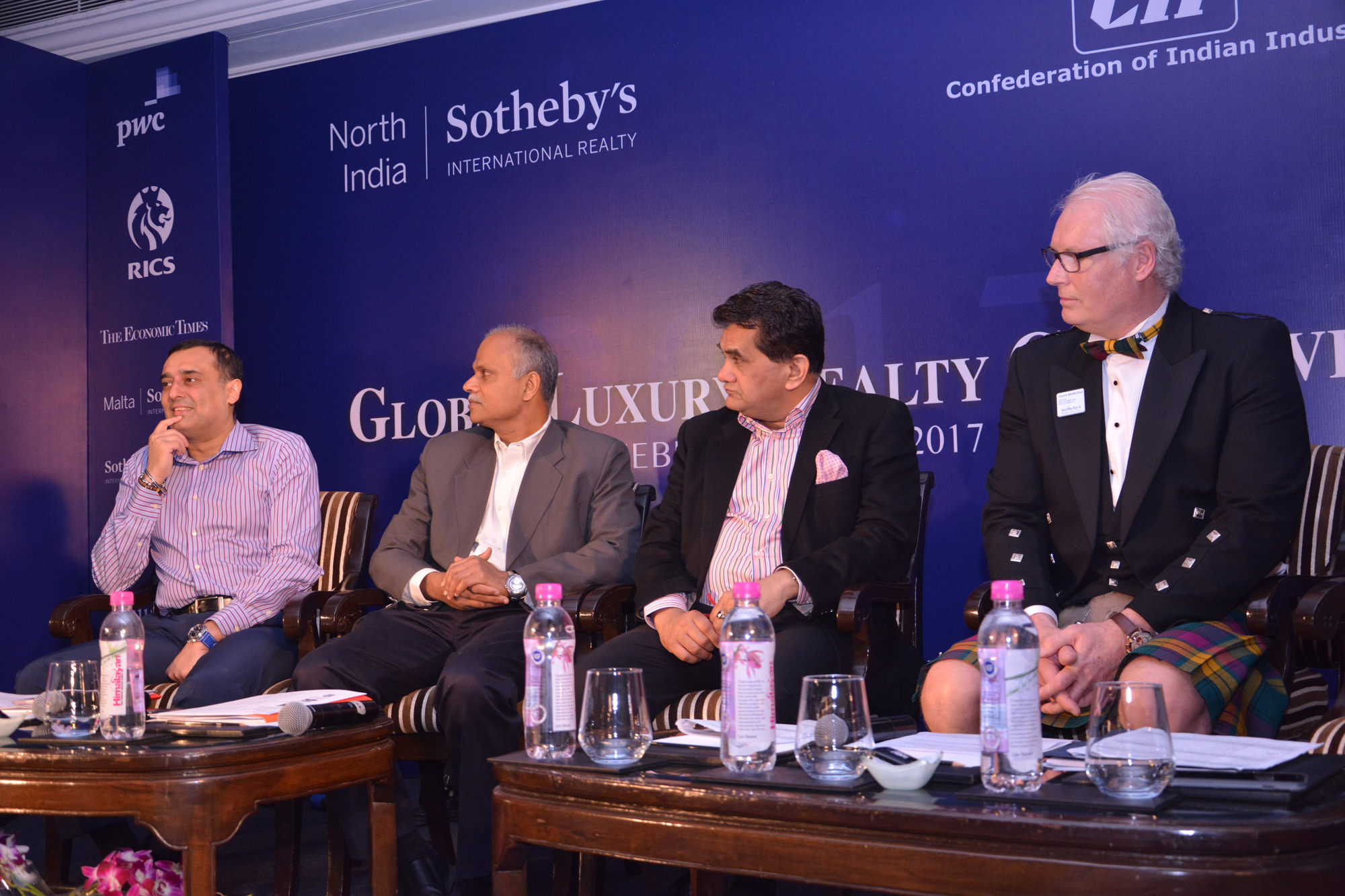 Mr Amitabh Kant, CEO, NITI Aayog (sitted center)  with Mr Jamie McMullan, Director EMEIA region, Sotheby's International Realty (right), Mr T K Arun, Editor, Economic Times, Mr Amit Burman, Vice Chairman, Dabur India Ltd and Chairman, North India Sotheby's International Realty
Delivering the inaugural address at the CII-Sotheby's `Global Luxury Realty Conclave,' Mr Amitabh Kant, CEO, NITI Aayog, discussed the impact of demonetisation on the economy and trends of India's real estate industry. "As long as India is growing at a rapid pace and as the Indian economy keeps getting formalised with the process of demonetisation, I believe it will lead to, in the long run, lowering of the fiscal deficit, greater levels of government revenues vesting in areas like education and health. This will,  in the long run, enable us to reap benefits of demographic transition, which will enable us to create products which will enable us to lend at lower rates for longer terms. This will in turn enable us to invest in infrastructure projects at low rates of interest. The government's focus in the coming years will be hugely on infrastructure and the objective will be to put resources into infrastructure and show that India is able to create world class infrastructure." he told audiences comprising of stalwarts in the luxury vertical, who had come together from across the country and international markets.
Mr Kant further stressed that as infrastructure gets created in many of the cities, infrastructure will drive urbanisation and very high luxury homes in the years to come. "There is a great amount of excitement and brand awareness and also a great amount of demand for luxury products driven by the young population of India," Mr Kant stressed. Also highlighting that luxury is not a new concept to the country, but relevant with an intrinsic historic association of India with luxury since the 'Maharaja' days – "India has been the home of luxury from our Maharaja days," he elaborated. "In India, since time immemorial, Maharajas have thrived on luxury. India has seen some of the greatest master craftsmen and artisans across the world. Thus, in the cusp of change while India undergoes modernisation and progress and as the luxury market grows, we hope that India will retain the values of it is traditional heritage," Mr Kant added.
Partnered by apex industry bodies like Royal Institution of Chartered Surveyors (RICS) and Price water house Coopers (PwC), the two-day event held at the Taj Palace Hotel, New Delhi,  debated about the Luxury real estate sector with the top business minds in the industry. The mega conclave provided an International networking platform comprising of real estate industry experts, select international & domestic developers, tax advisories, HNIs, creative leaders, as well as luxury observers and innovators.
Covering an extensive range of topics of interest to the stakeholders such as 'Impact of changing policies on Indian real estate'; 'Evolving real-estate market and trends'; 'Impact of international events on global real estate', 'Factors affecting Indians buying abroad'; 'NRI potential across the world', 'Citizenship by investment' and many more, illustrated speakers sourced from a talent pool of industry experts, moderated insightful discussions on trends and opportunities.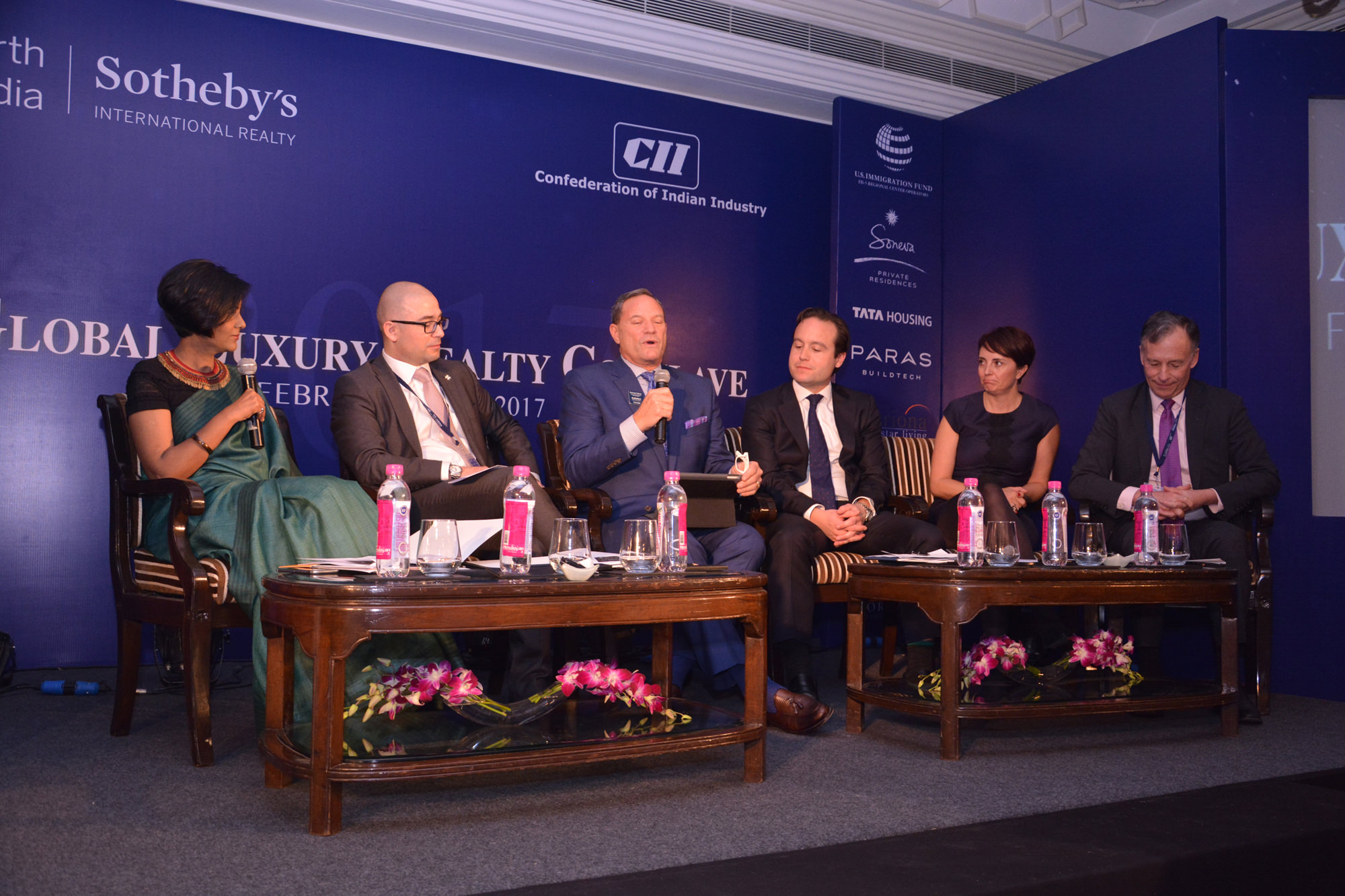 Mr Richard Silver, Senior VP, Sotheby's International Realty Canada (centre), Ms Manisha Natarajan,Executive Editor, Business & Real Estate NDTV, Mr Josef Cardona, Director,Malta Sotheby's,Mr James Lane, UK, Ms Leigh Williamson, VP, Gulf Sotheby's, Dubai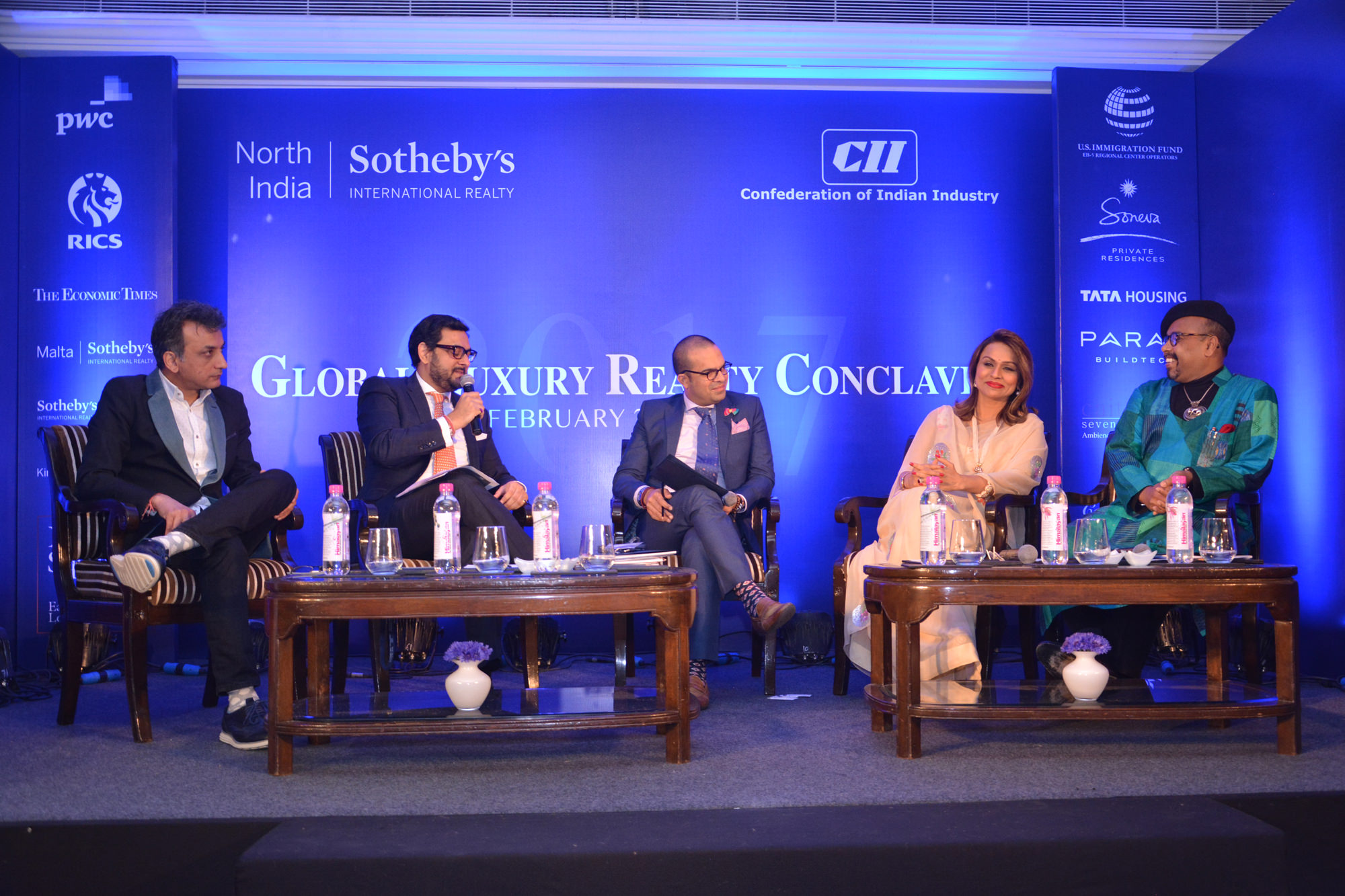 Mr T C De Sousa,Director,Ferry Wharf Communications (center),Mr Gaurav Bhatia, MD, Sotheby's Auction, India, Ms Raseel Gujral, Founder, Casa Paradox, Mr Paresh Maity, Artist, Mr Amit Gupta, Director, vis a vis.
Some of the key speakers included Amit Burman, Vice Chairman, Dabur India Limited and Chairman, NISIR; Rajeev Talwar, CEO, DLF Limited; Uttam Dave, CEO, Amoravida – Luxurious Bungalows, Goa; Leigh Williamson, Vice President, Gulf Sotheby's International Realty Dubai; Kevin Brown, Real Estate Partner, SIR, New York; Prerna Mehndiratta, Partner,  M&A Tax, PwC; Robin Paterson, Joint Chairman, UK, Sotheby's International Realty; Paresh Maity, Artist;  Gaurav Bhatia, MD, Sotheby's Auction India; Ms Raseel Gujral, Founder Casa Paradox; Amit Gupta, Director, vis a vis many more.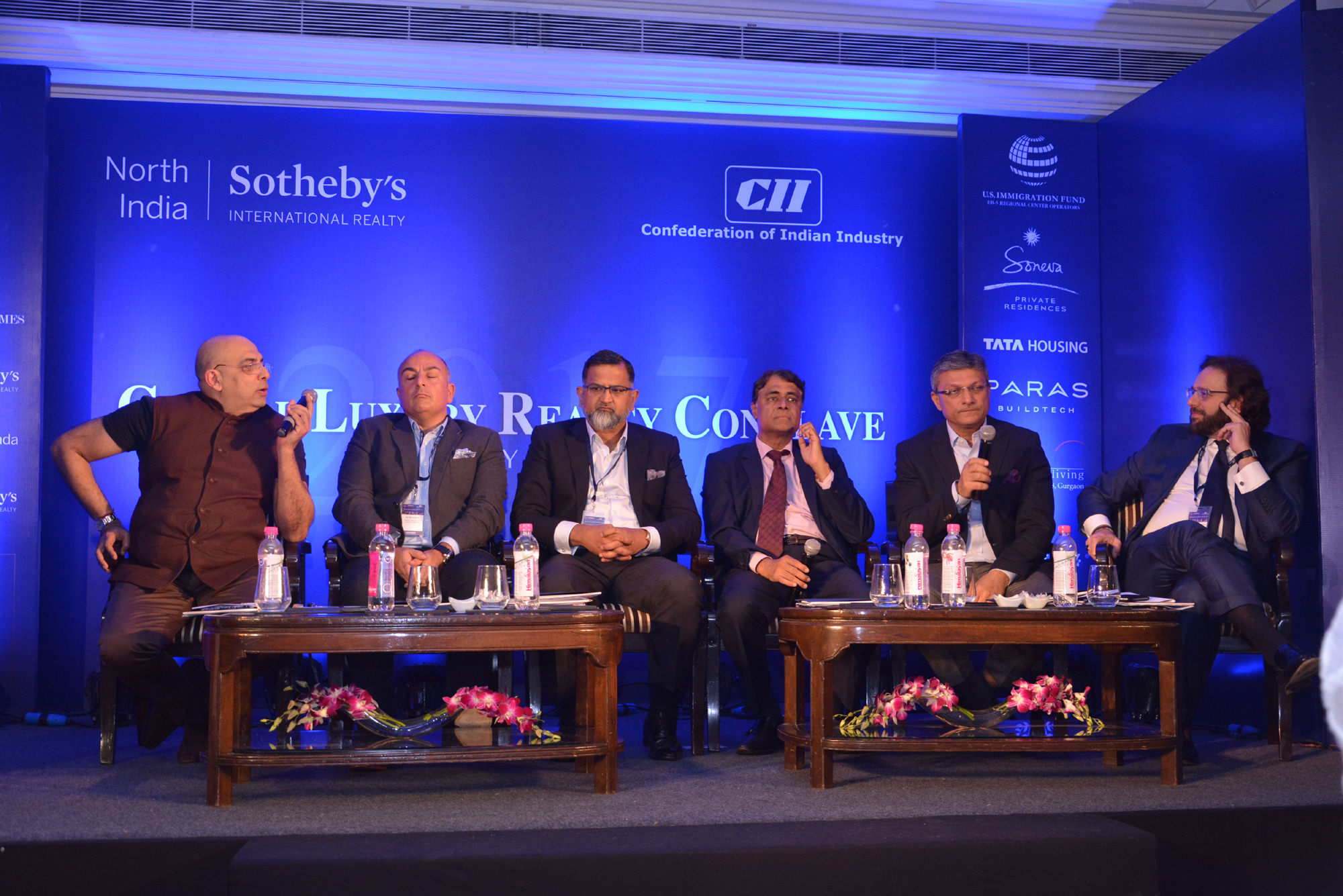 Mr Uttam Dave (center) seen with Tarun Tahiliani,Mr Sethu Vaidyanathan, Park Group, Mr Tarun Mehrotra, Tata Housing, Mr Francesco Pensabene, Italian Trade Commissioner India and Mr Marco Bonini (left), Director, Soneva Private Residences Maldives.
Invited to speak on `Global Trends in Vacation & Second Homes – Domestic and International, Mr Uttam Dave, CEO, Amoravida, Atmanya Projects, moderated  by noted designer, Tarun Tahiliani, Mr Dave shared that the event was, "A breath of fresh air in an otherwise drab real estate landscape. The focus on luxury real estate, what `luxury' means, international case studies, and a diverse attendee list drawn from numerous countries in addition to India, made the event unique."  "Future conclaves will surely build on this base and will be even more exciting and educative," Mr Dave confided.
Commenting on his signature residential development – Amoravida – that has brought his style of realty development to the forefront, and giving a new narrative to holistic living in partnership with Nature, Mr Dave drew the attention of  his peers for his unique vision of eco-luxury. Happy with the outcome, Mr Dave said, "Our development of TreeHouse Bungalows in Goa, Amoravida, received great exposure and was a subject of much attention at the conclave, due to its unique positioning as a `sustainable development.' Its many `green' features were highlighted at the conclave and it was acknowledged that Amoravida sets a new paradigm for residential real estate in India due to its pillars of sustainability, authenticity, design differentiation and convergence of real estate and hospitality."
Chandrajit Banerjee, Director General, Confederation of Indian Industry also shared that, "CII's collaboration with North India Sotheby's International Realty is to highlight the fast paced changes in global real estate industry, which is one of the most imperative sectors of the economy." While Amit Goyal, CEO, North India Sotheby's International Realty added, "The conclave showcased select luxury properties from India and overseas as well, as brought together thought leaders on a common platform to discuss varying trends in the luxury real estate sector,  including the impact of changing policies on Global Real Estate and the future potential of Indians buying abroad."