There's something magical, mystical about Chinatown, Malaysia, that draws me to her, again and again.
The first time I landed at her gated door with two packed suitcases and a dream, was in February 2020. Lead purely by instinct and the power of the flow, the taxi from KLIA airport had got me straight to Petaling Street, Chinatown, with no hotel reservation, and a queer look on the cab driver's ragged face. A potent mix of confidence and anxiety had danced worry lines on my forehead as the cab driver stated, his teeth grinding, `This is Chinatown. Where you want to go, Miss?' exasperated, and somewhat bewildered that I had no pre-booked place to stay. Stepping out of the cab with my heart pounding in my ears, unsure of my own sanity and the packed-to-the-cheek streets (this is before Covid 19 had hit town), I had dragged my luggage into the first hotel I had seen. A feeling of dare-devil adrenaline pushing through the doors, as Sam, the receptionist stared wide-eyed at my face (He mentioned later he had thought I was an actress). The rest is destiny. I became the some-what permanent guest of Hotel Petaling (revisiting them in March and spending two months in lockdown).
The best of the days (and nights) followed, as little Chinatown serenaded my insatiable curiosity for things old and new, driving my sense of adventure for art, culture, heritage, food, people, the not-so-nice underbelly even, taking me into stores, restaurants, alleyways, and the lives of people I had never dreamt possible. Conversations over spirituality, theology, religion, politics till 3.00am with theologists and professors I had never met before, over tea and mamak, fiercely debating views from texts to popular pop culture, exchanging women woes of love and children with lady owners of Indian and Chinese eateries, free teas, extra boiled eggs, roti and tandoori, extra chunks of fish and chicken gravy generously feeding my hungry soul, generous hugs, some very forward marriage proposals, loud greetings of affection across streets, catcalls and wolf whistles, complimentary shots at bars, heartfelt blessings at temples…Chinatown, a planet all its own buzzing on soy juice!!

Eclectic sights and moods of Chinatown weaved through street art, food, temples, architecture, gods and goddesses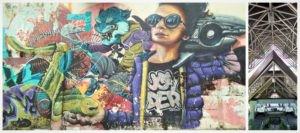 YOUR VIBE ATTRACTS YOUR TRIBE
And then meeting Shin Tseng, talented architect, design aficionado, on Instagram, online camaraderie spilling over wine tasting and bonded conversations at REXKL (of which Shin is a co-founder) — a chic performance and lifestyle event venue (80, Jalan Sultan, Kuala Lumpur), which houses a recycled popular yesteryear cinema hall, coffee cafes, cool dining spaces, live bars, fashion and decor spots for thrift shopping, book centre, wellness and community stores. A whirlwind rush of constant highs. It has been my go-to since.
"Being magnetic is all about going inwards to attract the outward," says Author and Founder of Mindvalley, Vishen Lakhiani. Your vibe does attract your tribe! As it does mine, wherever I travel. That's how Shin introduced me to the work of Jasmine Tuan of the Blackmarket Preloved Store drawn as I was to a fur jacket that made me feel like Audrey Hepburn on a windy day in Paris.
Browsing through the walk-in wardrobe concept with collections sourced from individuals, influencers, designers and brands in an effort to give second life to old clothes, and de-clutter congested wardrobes, Jasmine spends her time between Singapore and Malaysia, as a creative brand consultant turned zero waste advocate and activist. Her `wake up' call to re-examine her relationship with fashion happened in 2018, when her fashion businesses folded up in Singapore, leaving her with nothing but a pile of clothes!!
Labels on her re-cycled shelves range from street savvy to designer avant garde – Gucci, YSL, Christian Dior, FruFru & Tigerlily, Steve Madden shoes, Sonia Rykiel purses, beckoning that you browse, feel the garment, and have an experience at leisure. When a choice is made, you're taking home a preloved item of fashion and contributing towards saving the planet from further fashion pollution. Jasmine is passionately driven and so focused on sustainable fashion, that she helps friends and shopaholics `marie-kondo' their wardrobes. Now you know why the collections are so eclectic!! Time you examined yours too?!!
Catch Jasmine's REXKL Instagram Takeover LIVE on Saturday (June 13) at 11.00am (Malaysia time) on De-clutter Your Life!  
https://www.instagram.com/p/CBQDfIxj_5C/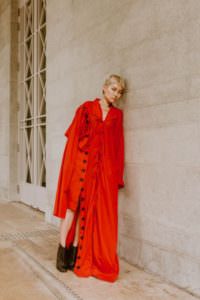 LET'S GET PERSONAL
Of course, there's more I wanted to know and let my readers know of her work sensibilities too. So, here goes excerpts of my interview with Jasmine Tuan of Blackmarket Preloved Store.
Ethel: How long have you been up-scaling and re-cycling fashion? How did this venture come about ? What is its core philosophy? How and where from do you source your collections?
Jasmine: I am in the fashion design, art, music, creative industry for 2 decades! Worked with the best club in Singapore call Zouk for almost a decade. And started a fashion label with two good friends along the way.  I was also a shopaholic, hoarder, collector and a well organized one! Been participating in flea markets whether as a buyer or seller. I also started organizing flea markets at Zouk Singapore for the love of second hand shopping, and also to rid my excessive shopping. Flea market was my `go to' to sell, to buy and also a form of treasure hunting for me which I enjoyed a lot. Digging for good stuff and good deals is such a thrill.
I went through a lot of radical change in my life. I used to have a concept fashion retail store by the same name 'blackmarket' housing the best of Asian Fashion Design and Art (2008-2013). When the business folded in August 2013, I was left with nothing but a lot of clothes in my walk-in wardrobe and a lot of time for myself. This is when I started questioning about my life. Has it been all about working hard and spending hard? Has it been all about consumption and accumulation of stuff? If I die the next day, I can't even take them with me. I sort of had a wake up call, and broke my attachment to things.
Fast forward in 2015, I had the opportunity to live and work in Malaysia. This is where I knew I couldn't take all my possessions with me. I needed to downsize and rid my things quickly. From a walk-in wardrobe, I managed to shrink to a single rack. And left Singapore for good. I felt light and free. But of course, old habits quickly sneak back when the currency exchange rate got me excited. New life, new wardrobe plus it was year end with all the sales going on that got me back to shopping all over again. Soon, my wardrobe ran out of hanging space and that's when I caught myself going back to the old cycle of having to spring clean, to lug everything to sell at the flea market, etc, etc, etc. This is when I knew I just had to stop.
End 2017, I chanced upon Zero Waste Malaysia Facebook group which exposed me to a 5R principle, to a low waste, low consumption life. Inspired, I applied it to my own life in 2018, and I also committed myself to zero shopping on new fashion items, especially fast fashion. I started swapping, instead of shopping, and buy second hand first. I mostly swap and usually ended up with more clothes than before! Not good for someone who wanted to downsize and go minimal. Hence, I still have got a lot of stuff to rid! Mainly clothes and accessories. Interestingly, I also started to have access to salvage lots of good fashion pieces during my zero waste journey with zero shopping adventure. They are pieces which are still fairly new and good to be worn by fashion lovers like you and I. Quite wasted to be sent to the recycling centres right away, or dumped to the charities organizations, who are often over burden by donations. They usually have too much to sift through, let alone curate. Items donated are sold to bundle stores in countries like Kenya and Pakistan, which might not understand or appreciate our type of style and fashion.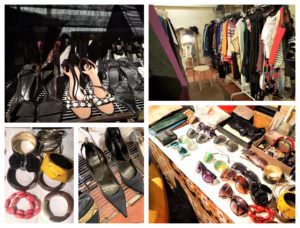 Blackmarket Preloved Store came about in September 2019 to fill in the gap. Utilizing my skills as a shopaholic, a retail person, and now a zero waste advocate and activist, the Store mission is to curate and circulate good fashion pieces within the community and country.  We organize sporadic flea market at REX called The Black Market Weekend @Blckmktwknd – where people can sell their unworn, unused items, and at the end of the day, they can donate to the store where we will segregate for the store, for swap, for repair or up-cycle, before recycling. We also partner up with Kloth Cares as one of the collection points for their fabric collection drive. Their mission is to divert fabric from the landfills which is very much aligned with ours. We want to make second hand pieces, Preloved pieces, lovable again through curation and story telling.
In the beginning, the store were mostly filled with my own clothes as I still have so much to clear! I helped 'marie-kondoed' a male friend who's a fashion designer and also a shopaholic, and his excess shopping fulfilled the needs of male customers. Both of our possessions filled up 3/4 of the store already!! 🙂  I then started to help clients organizing and downsizing their life (mainly wardrobe and products) and they donated their unwanted, unused, unworn pieces to the store as well.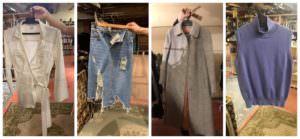 Ethel: How do you translate this idea to communicate to fast fashion loving millennials?
Jasmine: Fashion is a form of self expression. It's fun exploring our body with clothes that speaks our style, our mood, our feelings. Fashion is a creative outlet. However, when fast fashion came about with mass productions, cheap copies, all this changed. Fashion became sufferings for the people making it, as well as for the planet. Fashion is the second most polluting industry and it went on steroids with fast fashion. We need to slow down. In fact, there's too much clothes produced already, that we could wrap the Earth umpteenth times. We should just all wear second hand from now on and stop productions already.
Ethel: What's your advise to my readers to stay fashionably chic
Jasmine: Fashion is like a never ending self discovery. What you wear, how you wear it, says about your vibe. Don't let the fast fashion industry manipulate you into wearing trends set by them. You set your own trend. Wear your own season and style. Know who you are, what you are about, what's you, and express it through clothes. Most importantly, wear your own confidence. That to me is the most fashionable chic.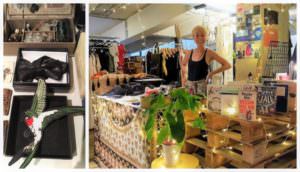 Ethel: Illustrate brands that `walk the talk' in sustainable fashion in Malaysia, and what makes them different from mainstream fast fashion brands.
Jasmine: Sustainable brands in Malaysia such as Earth Heir, Kaneo Wear, The Hashtag (Sri Hartamas), stores like Unplug featuring more of such brands. They are the opposite of fast fashion. Not only does slow sustainable fashion not follow seasons, they are made from natural materials or recycle materials. Not mass produced but in small quantities of limited quantity. Maybe one of a kind, one piece only. They pay fair wages to the maker and artisans, in turn giving them dignity to earn a decent living  in what they are good at doing, thereby preserving and keeping some traditional craftsmanship alive too.
All in all, Sustainable fashion brands are created more holistically, mindfully, carefully, thoughtfully, slowly, ensuring no animal, planet or anyone died or was harmed during the process.
That's the new order of holistic living, folks. Now that COVID has also taught us some lessons or two on wasteful, mindless consumption and the direct consequences thereof. So, you ready to be marie-kondoed?!! Write to Jasmine to inspect your wardrobe at blackmarketprelovedstore@gmail.com
DO NOT MISS Jasmine's REXKL Instagram Takeover LIVE on Saturday (June 13) at 11.00am (Malaysia time) on De-clutter Your Life!  
If you like what you see, follow REXKL IG handles @blackmarketpreloved @hellorexkl @blckmktwknd – flea market
Jasmine's IG handles @jsmntuan where she shares her zero waste stories @smileslikegreenspirit 
For reviews/interviews/collaborations email etheldacosta@gmail.com
LIKE & Stay TUNED to my Facebook page  https://www.facebook.com/dacostaethel/