Six days into New York Fashion Week, and the street style is still going strong. Just look at this red sequin dress paired with tiny sunglasses!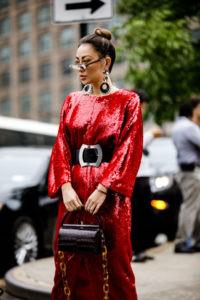 In the fashion world, outfits that would be classified as formal "gowns" or "evening wear" are things you wear any day, any afternoon. The original street-style queen, Anna Dello Russo, did just that and wore a glorious tiered pink gown to her shows. It looked like a beautiful cupcake. Color continued to reign. One person boldly paired a cobalt blue top with bubblegum-pink pants that looked like an extra-special nod to Raf Simons and Calvin Klein.

Of course, black and white were well represented as a classic color pairing. A Western-style, black-and-white dress and coat looked more Space Cowboys than John Wayne (a fresh twist), and one sophisticated black-and-white top had billowy sleeves with a cinched ribbon belt. As the temperatures dipped, people started to wear layers in some inspirational, creative ways.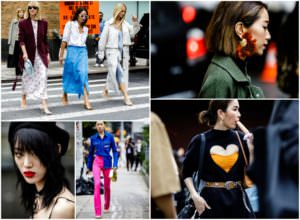 Most notably, a sweater with a heart-shaped cutout at the chest, worn over a bright yellow cami. Take another tip from the street and wear chunky socks with delicate kitten heels. One more cool accessory? Popsicles, courtesy of People's Pops, which had a stand outside the shows. Just the pick-me-up we needed.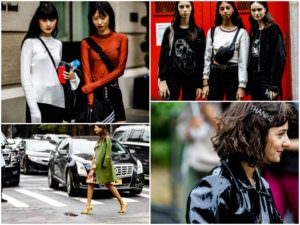 Our street-style photographer Paul Jeong photographed these stylish people in their natural habitat: flitting to and from the shows, that prove early fall outfits are the best kind of outfits, including inspiration from Tiffany Hsu, Kate Bosworth, and more.