Paris based make-up professional, Mellissa Fernandes is a beauty beast. On the move, behind the scenes, working backstage at international fashion weeks and hence, the perfect candidate to beauty date this Geek.
Ready to go 'CHROMING'? The latest highlighting trend of 2016 blows you away, because all you need is nothing, but a lipstick. Yes, just a LIPSTICK! This Spring-Summer we take this trend hands on and a notch up. Ladies, get set to pack your lightest make-up travel kit ever!
What is Chroming?
Chroming is a highlighting technique to achieve a luminous glowy complexion without investing in a million different products. Dewy skin for Spring is just a step away. All you have to do is grab your lipstick and get started!
How do you chrome?
Once you are done with your base, apply the lipstick on:
cheekbones
browbone
forehead
cupid's bow
down the bridge of the nose
Blend this well using your fingers.
How do I choose a lipstick for Chroming?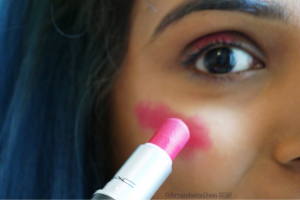 Choosing your lipstick is a very important step, the shade of the lipstick should always be lighter than your skin tone. For an iridescent effect, choose a frost lipstick. For a dewy effect, use a satin finish. I personally like to use creamy lipsticks rather than matte for the beautiful sheen finish that it gives off.
What is Color Chroming?
Use your lipstick as a blush, eye shadow and lip stain. Spring time make-up is all about keeping it fresh. Here's how you get started!
Apply the lipstick directly from its bullet
on the apples of your cheeks
eyelid
Blend using fingertips or a brush (whatever makes you comfortable), making sure not to have any harsh lines and keeping everything beautifully blended.
Apply the lipstick as a lipstain
gently pat the lipstick on your lips using your finger for a natural lip tint, build as desired.
And voilà! you are ready with an ultra fresh dewy look.
How do I choose a lipstick for Color Chroming?
You can use any shades you like from peacock pinks to reds, they all work. While you are at it, why not try out some crazy colors. As long as it's well blended, it will look great. Matte lipsticks will give you more intensity but will demand an extra blend time!
SMILE, CHROME & ENJOY!!!