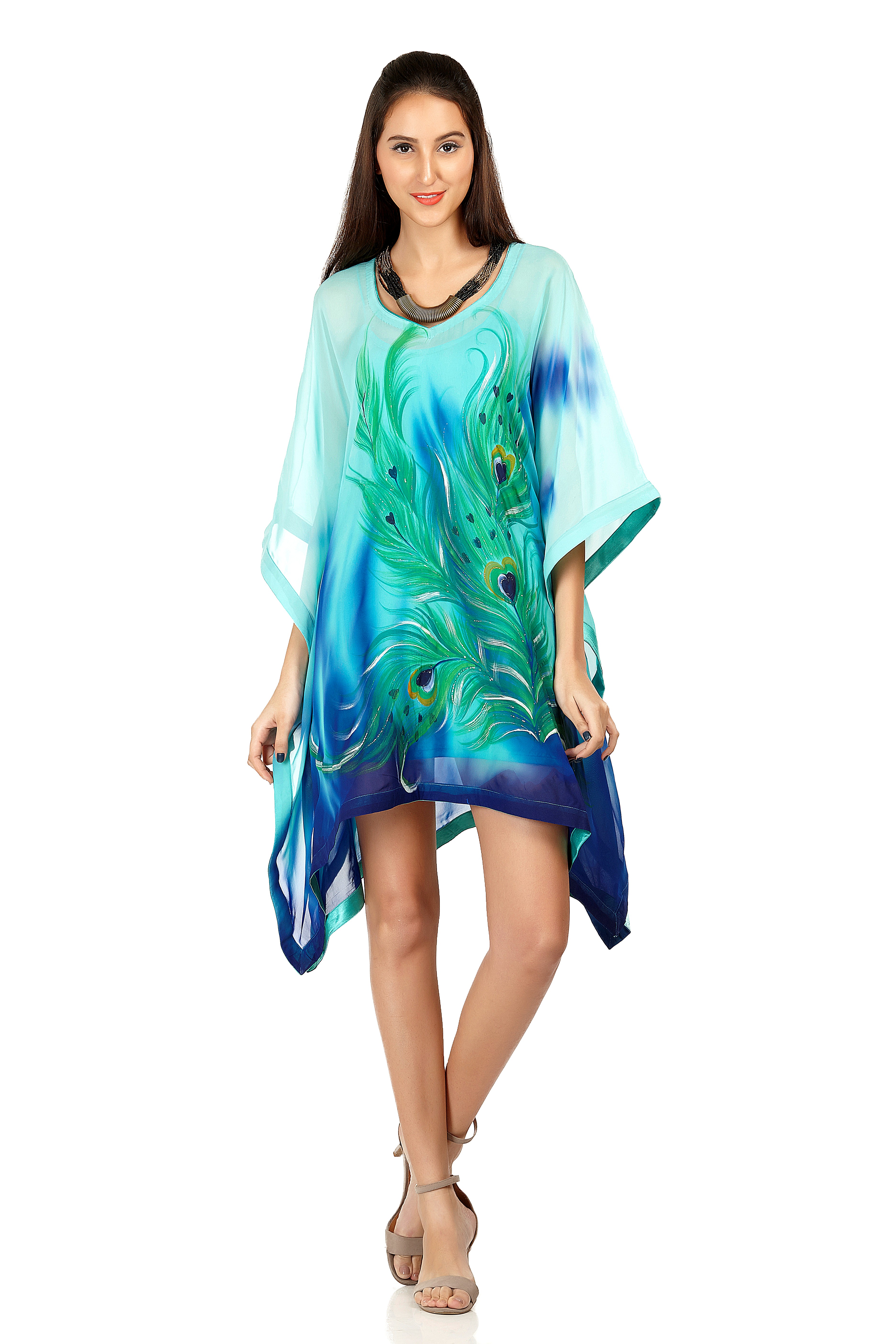 A youthful burst of synergy greets this design duo every time a meeting is set. Shy at first, then warming up to conversation, words flow and soon the laughs.  Their workshop wardrobe is a different story altogether. Flirty summer silhouettes, delicate detailing on cocktail dresses, hand painted  motifs of African tribal art on dark chocolate sarees, palettes of pastel and bold borders go fast off the racks,  a sequin fairyland of nine yards, smart drapes of black and white fusion couture fit for a red carpet… And all along subtle peacock feathers pop up on kaftans, roses on pencil trousers for corporate mix-and-match, zari embroidery on flowing evening dresses. A breath of freshness and vitality on collections that celebrate their Indian sensibilities, cultural influences, spiritual roots and artisan stories. Kashvi's  #MakeInIndia #ThinkGlobal #EmpowerArtistans fits well into the growing Indian fashion industry that marches forward from strength to strength. Designer Karishma Kamboj details how it all began and where they want to go.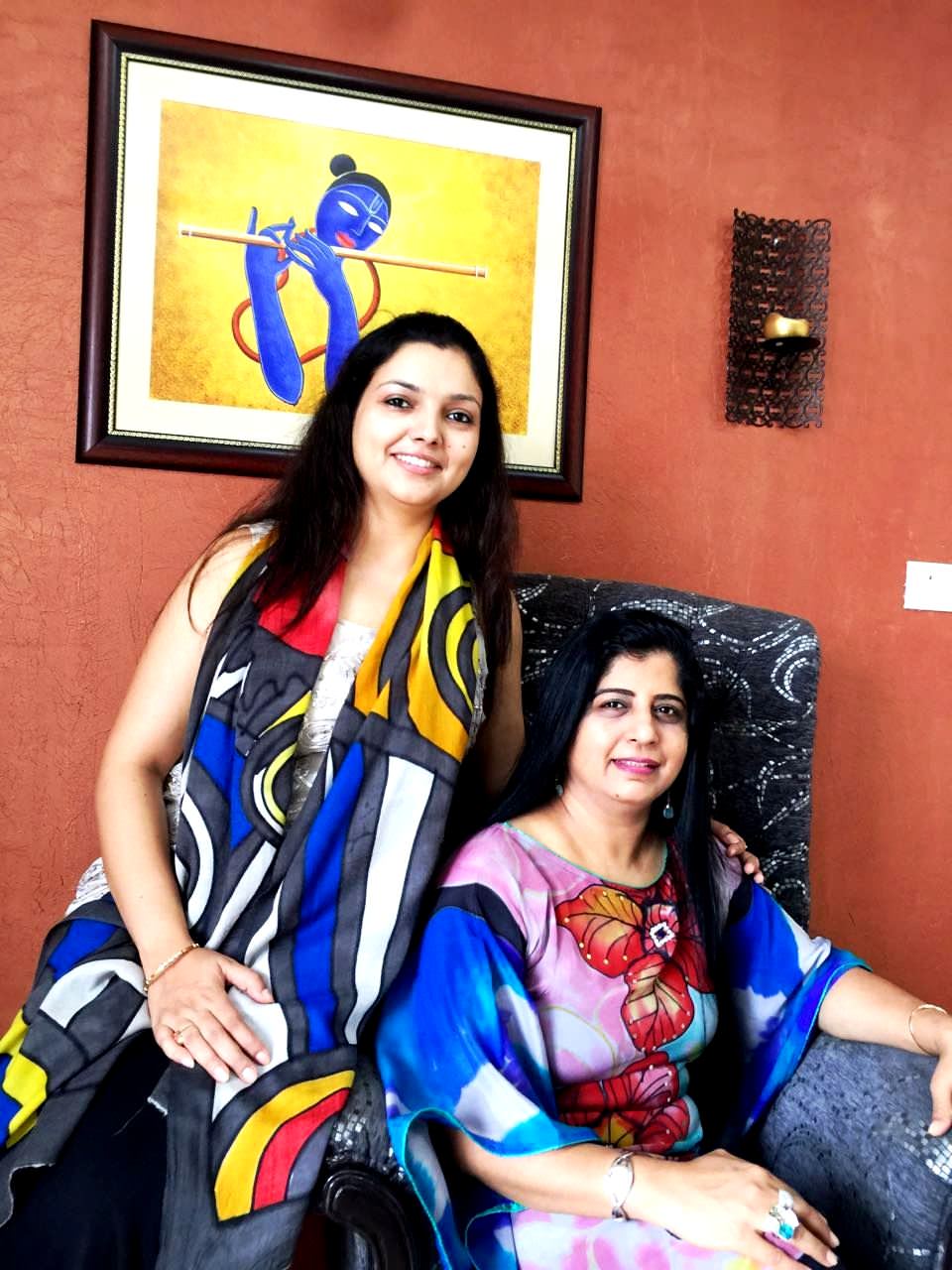 How did Kashvi's start?
I believe every idea is fuelled by an inspiration or a situation. We had both. My father's journey has been as inspiring as any business typhoon's life and his bad health landed our family in a difficult situation. Hence, inspired from him my mother planned to fight back. Mrs Sharda Kamboj's love for fabrics and eye for fine quality, my sister Richa's (a bio-tech engineer) passion for colours and painting and my intricate sense of apparel designing worked as a great combination. However, with Krishna's grace, this combination worked mostly because of the unconditional support of our respective families.
In the year 2010-11, we successfully finished around four wedding couture orders amongst  family and friends. We were bang on with the budget and the quality of the stuff. Reviews from friends and family were great and it spread even abroad. Finally, in 2012 we formed Kashvi Creations as a partnership firm between Karishma and Sharda. My mother is a super-human; she is the backbone of the firm and has a 'never say die' attitude which is pre-requisite for any young firm. For next two years, we were mostly exporting ethnic dresses and wedding couture to the USA and UAE.
In April 2015, we met our new partner Sanju and from Kashvi Creations, our current label Kashvi's came to life. Sanju came in with a strong sense of design detailing and has flare for styling. We were fiddling with the idea of show casing our work nationwide. She joined us with a new spark and it gave a kick start to retail branch in domestic market.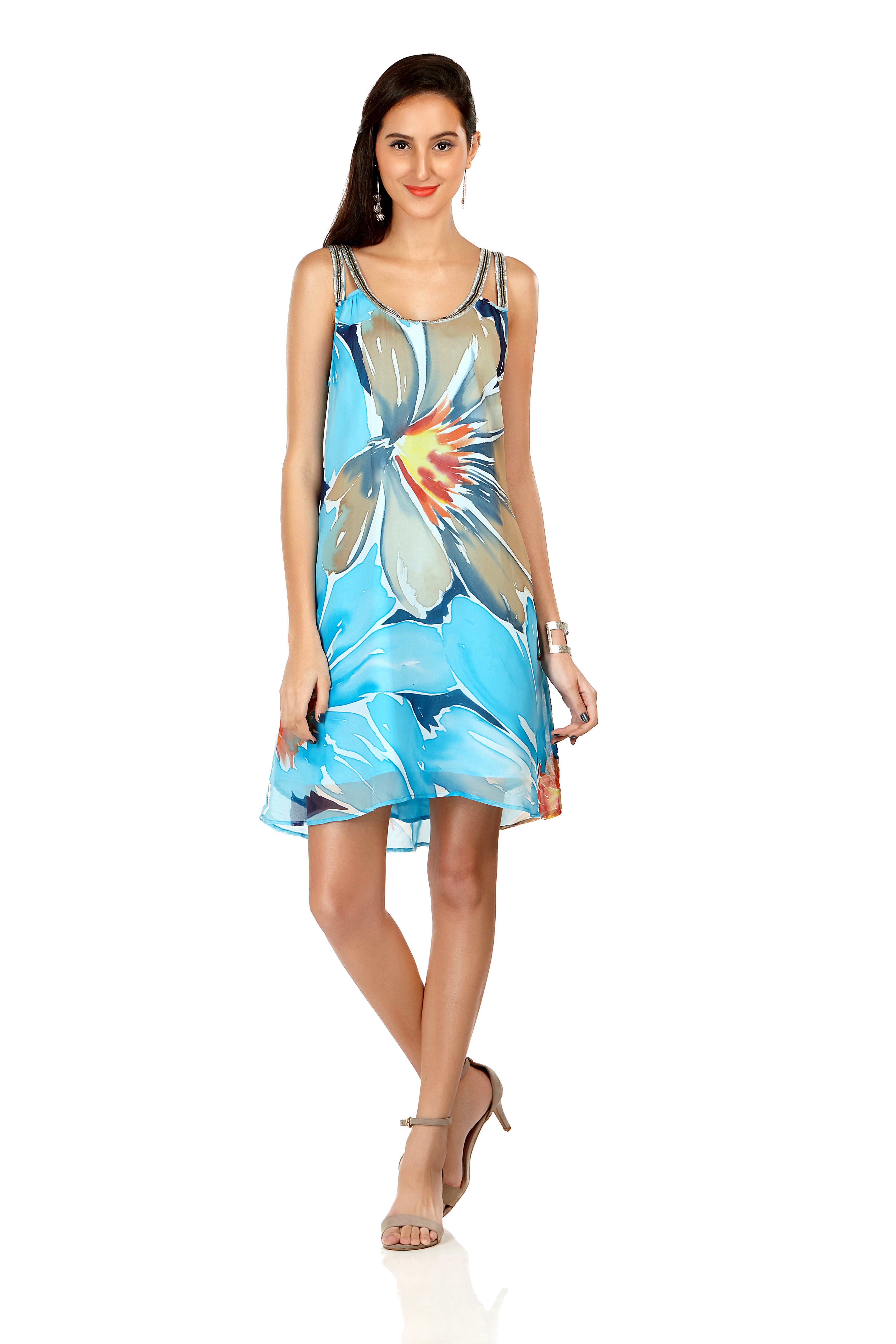 What is the philosophy behind the design house?
I have always been fascinated with our Indian culture and its various rituals. We are a family of strong Krishna believers, our values and inspiration comes mostly from his stories. Hence, the logo of the firm and paintings on our fabric presents our spiritual roots. Our purpose is to offer global women a chance to embrace unexplored Indian traditional arts in contemporary fusion couture. We aim to provide a reflection of different parts of India in each of our new collections.
For instance, we have been developing the work of a few artisans from east India. They have crossed the barriers of traditional art and have added abstract painting to their work, which is well depicted in our collections. "We want people to work with us and not for us – we see our growth in their growth"
Two heads are better than one. How do both of you synergise your talent?
We met at a meditation session, instantly something clicked. In one session, I shared my frustration of not been able to aggressively follow my dream and Sanju shared her intent of doing something substantial in her life after beautifully raising both her kids. We jelled in from the day one Sanju joined us. We complement each other in every way, when I design a piece, she takes care of its design detailing. While I focus on business strategy and purpose, she manages people's issues and is a great networker. Sanju beautifully shares and represents our story where I could manage the next steps of our work. At Kashvi's, we work with each other so all the energies are harmoniously synchronised. Honestly, we all fit in as a team wherever and whenever duty calls.
What makes Kashvi's different? What is the core strength?
At Kashvi's we are exploring market niches that are tough turfs for others to access. For instance, few forms of hand painting on fabric is time consuming  and requires a lot of technique. We have a team completely dedicated in processing a painted piece other than the artists.
We pride ourselves in offering an exclusive product to the customer as our signature dresses are usually limited edition. We never compromise on the quality of the fabric. We procure our material from the weavers across the country. In our nature of work, the purity of the fabric is of upmost importance, as the hard work of an artist is at stake. Hence, our clients can be rest assured about the quality of the fabric. We take customer service very seriously. Since we customise and design, one-on-one interaction with the customer is a regular affair. We are very upfront about the time of production and care that our product would need.
Kashvi's has a team of people who are passionate and dedicated towards the vision of the firm. Open culture at Kashvi's makes it easy for everyone to breathe and enjoy their work. The idea streams from bottom to top and vice a versa, as working together is our mantra.
Elaborate your vision board.
To promote  the fusion of Indian ethnic and heritage arts with modern and accessible fashion. We pride in carefully curating a tasteful ensemble of apparel and accessories.  In next one year, Kashvi's would be recognised in the international markets and domestically for its hand woven fabric and handcrafted painted dresses with a designer label edge. Periodically, we would be representing the work of artisans from different states of India. This would be the sole objective of empowering the artisans and offering fair price to our customers. Our passion for Indian art and simplicity of designs are sure to provide us an edge in long run.
#ThinkGeekMedia #ContentWithImagination #NurtureBrand #Fashion #handpaint #kaftans #design #detail #BreakingStory #PRalert #fashionnews #Kashvi's