The dawn woke up bright and early. We had been planning this event for a long time, and finally it was here. The grand launch of the M∙A∙C∙ Clinic's new aesthetic destination in my neighbourhood of Ampang. A proud moment for the team that had been working diligently to manifest this new location in synchronicity to bring together the elements of beauty and wellness. So, with my stilettos strapped on to eager feet, I found myself pepped up and ready at 10.30am to witness the official launch event held on February 10th.
Loved by Malaysia's bold and the beautiful for championing the art of aging gracefully, the M∙A∙C∙ Clinic's new location at Great Eastern Mall, (Level 4, 303, Ampang), aims to cater to the growing aesthetic demands of the local and international populace based out of Ampang, KLCC, and its neighbouring citizens. While the clinic located at BSC, Bangsar, will continue to serve the population of Bangsar, and residents beyond and around its locality.
Respected and recommended by Malaysian celebrity and beauty cognoscenti, the M∙A∙C∙ Clinic, as we know and to those who don't know, is one of Malaysia's pioneering aesthetic clinics in the country that offers non-invasive and minimally invasive aesthetic procedures with little or no downtime, with a focus on delivering great results without compromising on quality or integrity.
Greeting invited guests at Level 4 of the Great Eastern Mall with an energetic Lion Dance blessing, host of the occasion, Medical Director of the M∙A∙C∙ Clinic, Dr Hew Yin Keat, took media invitees, influencers and well-wishers through a tour of the clinic explaining its unique services and facilities.
Joined by his team of aesthetic doctors, Dr Hew explained to first time visitors how the M∙A∙C∙ Clinic continues to deliver treatments that improve skin health, whilst pioneering state-of-the-art skincare solutions to enhance one's appearance utilising medically advanced technologies and procedures.  "Beauty with a pro-active holistic approach is the need of the current times. And so is safety. It is always the highest priority at the M∙A∙C∙ Clinic," he shared.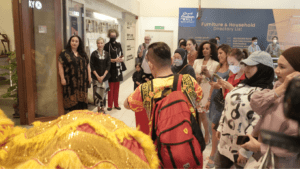 The Lion Dance blessing of the new clinic witnessed by friends and fans of the M∙A∙C∙ Clinic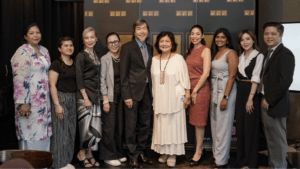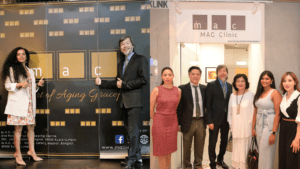 Tour completed, guests were then ushered to festivities that awaited at Alexis Café (Ground floor, Great Eastern Mall), where we were greeted by well-known Malaysian talent, TV host and MC for the day, Serena C. Bubbly and effervescent, Serena took over the launch ceremony with flair and humour, greeting guests to light-hearted conversation before diving into the formalities of the occasion.
Commenting on the Clinic's unwavering commitment to clients for the last 27 years, Serena introduced the M∙A∙C∙ Clinic as an industry leader who has always been ahead of the curve with innovation and technology, as also being the first aesthetic clinic to introduce the PicoSure Laser to Malaysia. "The Clinic has enabled the local population to enjoy treatments previously only available overseas in cities like New York, Los Angeles, or, London," she commented. Treatment machines like the Norseld Dual Yellow Laser, Fotona Starwalker Laser, Infini by Lutronic, Excel V and Xeo Lasers by Cutera, CoolSculpting by Zeltiq are many such technologies available at the Clinic.
Not forgetting to mention an enviable roster of `Who's Who' of Malaysian celebrity in sports and movie stars, fashion, film and culinary icons, including Malaysia's first astronaut as the Clinic's high-profile skincare M∙A∙C Ambassadors who represent the brand's benchmark to prioritise quality over quantity. "It will always remain the brand's raison d'etre," Serena shared as audiences were taken through audio visuals of the Clinic's previous celebrity launches in Kuala Lumpur.
The well attended media event held at Alexis Café, Great Eastern Mall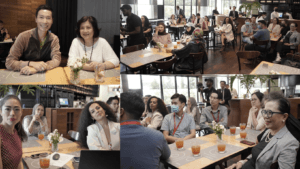 Officially introducing Dr Hew Yin Keat, Medical Director of the M∙A∙C∙ Clinic as well-known for popularising and promoting the safe and effective use of Botox for aesthetic concerns in Malaysia at a time when other doctors and patients were either unaware, or, hesitant about the injections, Dr Hew welcomed his guests with a short self-introduction as one of the few doctors selected as the first Allergan trainer for Botox in Malaysia tasked with training subsequent generations of Botox-using doctors. At one point, being even the single biggest user of Botox in the country. "The hallmarks of my Botox treatments are preserving the natural look of the face at rest, and in animation, while erasing troublesome wrinkles," he shared jovially. Dr Hew is a founding member of the Malaysian Society of Aesthetic Medicine, as well as being a Past President of the society.
Supported by his hand-picked talented team of highly trained medical doctors, Dr Hew also spoke briefly of the M∙A∙C∙ Clinic's community initiatives as part of its Corporate Social Responsibility (CSR) and Environmental, Social and Governance (ESG) beliefs, sharing that giving back in support of Malaysia's under-served individuals in education, sports and environment is a conscious way to create greater good to society as large. Thus, hinting that 2023 will see an active calendar of events intended to introduce and initiate greater client-clinic interactions in the immediate future.
"My team and I have been delivering remarkable results that have been getting us word of mouth referrals from all around the country, and internationally for the past 20 over years just from our Bangsar locations. Having this new clinic at GE Mall allows us to expand our range of services and brings us closer to a convenient location to our clientele in Ampang and the heart of KL," Dr Hew shared candidly with his invitees.
Co-creating an environment of holistic wellbeing with the support of Dato' Ramona Suleiman, Founder and Director, Energy Spa and Wellness, speaking on the occasion she shared that "An Aesthetic Clinic in G. E. Mall has been long overdue.  It is really strategic that M∙A∙C∙ Clinic is located next to us. With the additional offer of aesthetic treatments in the Mall, customers will now have a complete range of treatments for their optimum wellness and beauty," she said congratulating the team on a job well done.
Soon it was happy photo shoots and selfies, gifts of facial experiences, massages, and lip and eye masks from Intraceuticals for the media, with eats and bites by Alexis Café who rolled out a short but sweet curated menu of Kampung egg finger sandwiches, Valrhona chocolate tortes, Lemon meringue tartlets, Chilli-salt tuna on croute, Wild mushroom tartlet, iced lemon tea and coffee shared over lots of energetic bonhomie. A beautiful day spent with beautiful people.
The M∙A∙C∙ Clinic at Great Eastern Mall, Ampang is situated at Lot 4A, Level 4, 303, Jalan Ampang, Desa Pahlawan, 55000 Kuala Lumpur.
For Skincare Appointments and Inquiries, whatsapp at +60 12-321 2931
Email: mac.clinic.my@gmail.com 
*
*
Connect with me for Collabs/Launch & Event Invites/Food Reviews/Staycations at etheldacosta@gmail.com