Anybody who knows me very well, will second this. I am an absolute `sensory + visual stimulation junkie' when it come to fashion, beauty and wellness products. It has to talk to me before I buy it, and thus make it worthy to be a part of my life. Not strange therefore, when on a gift hunting spree at one of my favourite stores of HomeStop Mumbai, I accidentally stumbled upon Nyassa.
"There are no accidents or coincidences in life – everything is synchronicity – because everything has a frequency. It's simply the physics of life and the universe in action." – Rhonda Byrne, The Power
I distinctly remember how my body reacted to the olfactory sensation caused by the Temple Mogra. I inhaled its fragrance deep and long. Closing my eyes to feel its seductive notes as it travelled to my brain, triggering images of fresh monsoon showers beating against heavy branches of new mogra blooms.  I ended up buying three soaps, along with the soothing Under the Ocean Bath Sea Salts to relax aching muscles, since I had just about finished my home moving marathon in Goa. It was a discovery of kindred spirits coming together.

And then by an act of synchronicity again, I met the gorgeous, intelligent woman behind this angel love, Founder of Nyassa, Ishween Anand, at the BNI Pinnacle business meet at Taj Land's End, Bandra, Mumbai. It was, as if, the Universe was lending itself to a chain reaction. To think that this lady was a certified Chartered Accountant, with an MBA in Finance from the Stern School of Management, New York, who then joined Ernst & Young in The Big Apple, handling mergers and acquisitions, asset management for GE, "Till I chucked it all out for my obsessive hobby – making handmade soaps," Ishween shares, as she took me through a sensory tour of her haven at 18th Road, Delta Houses, Khar, Mumbai.  Thank God, for her instinct to shift careers proved right.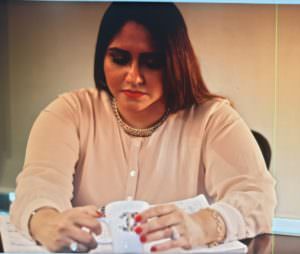 Establishing Nyassa in 2007, Ishween today has created an empire with her stand alone stores across Mumbai, and collaborators across the country. Growing her brand strategically, tactfully implementing innovation in design and packaging, and bringing her global curiosity, information and  travel experiences to product development, is like a breath of fresh air. An avid traveller herself, each product — whether old classics or new trends – brings a mystic narrative to its existence. Like the smells of old souks of Morocco, the desert Bedouin journeys of the Middle East, bustling bazaars of Turkey (the Oudh Collection), heady and magical. Fragrant and fresh like a 6.00am shower before you hit Wall Street, New York  (the Lavender Collection of soap and body-hand lotion); the fruits of Raspberry Vanilla, Lemon, Alfonso Mango, Green Apple, Golden Pear, Rose and Lychee reminding you of summer vineyards in Florence, Tuscany, or Napa Valley. "The Nyassa woman (or men) are discerning individuals, perceptive and imaginative, driven by personal and pleasurable choices with a taste for uncompromising quality," believes Ishween, devoting her Tuesdays to product development and thinking new ways to amp up the experience. Dedicated to purity and championing a natural way of life in synchronicity with the environment, all of Nyassa products are 100% vegetarian with no animal testing.
As a big believer and promoter of #MakeInIndia (I apply absolute discerning benchmarks to this product category), The World Collection Gift Set came my way today, launched this festive week (marking Raksha Bandhan and Independence Day).
https://www.instagram.com/p/B1JxHSFHtVH/

The sunny design of sunshine yellow, cyan blue and hints of gold packaging took top marks. The set of four carefully curated (unisex) handcrafted floral soaps  — Cool Caress of the Atlantic Shores, Melange of Eastern Flowers, Warm Drift of an Indian Summer, Ancient Oriental Souks and Caravans — each mindfully created to present an exotic bouquet of flowers, fruits, a melange of personalised extracts to suit skin types, or personality, consisting of oils, body butter, note of spices, minerals, and distinct fragrance. It elevated my spirit instantly.
Indulging in a Saturday `me time' for a mood upper-lifter indulgence, my favourites are Warm Drift of an Indian Summer (fragrance scale `Floral' with shea butter, jojoba oil, sweet almond oil, wheat germ, aloe vera, grape seed, honey, Vitamin E). My skin felt soft and super luxuriant.  Cool Caress of the Atlantic Shores (fragrance scale `Aqua' with seaweed) is a lovely holiday spa experience for a Sunday getaway by the ocean. Incidentally, the individualised soaps make for excellent travel partners to suit the mood and vibe of your travel destination. Just sharing 🙂 Lookout for my Insta stories/posts @etheldacosta 
The stores also have customised soap boxes for Men, classic and tasteful, natural clean cleansers with hints of musk, earth, ocean and spice, though Ishween shares that mogra is also a favourite with many of her male clients. "Men are changing, and we love it," she praises.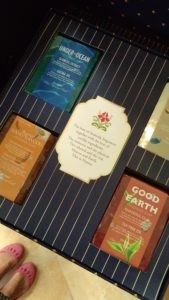 Look out for Nyassa at airport stores across the country, or, in Mumbai at leading malls.
Enquires for customised hotels/spa collaborations at: +91-22-26681105, +91-8291373212 / letstalk@nyassabathandbody.com
Write to me at etheldacosta@gmail.com