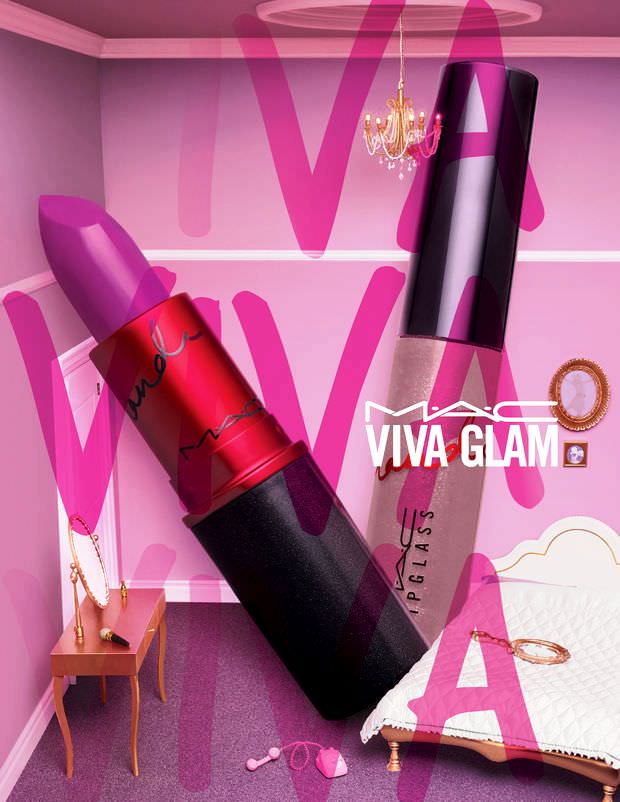 MAC's Viva Glam campaigns have featured true legends and beauty icons of all sorts: RuPaul, Lady Gaga, Madonna, Nicki Minaj, Miley Cyrus and of course, Ariana Grande, who at 22 years old is already a billboard chart-topping phenom. And while she's recently started to grow out of the sexualised school girl look she consistently channeled on her rise to fame, her latest MAC campaign is full of sexy baby vibes (So. Much. Pink.) Cristin Milioti's character in 30 Rock would approve.
Technically this campaign is supposed to be doll-like, with Grande crammed in a tiny dollhouse-sized room and the campaign urging customers to "Be a doll, and go glam!" Grande's signature super-high ponytail is paired with a giant, froufy bow, head-to-toe pink, frilly socks and platform Mary Janes (a must-have fashion item, as any true sexy baby knows).
But the real purpose of the shoot is to announce two new MAC Viva Glam products: Viva Glam Ariana Grande 2 Lipstick, a matte deep mauve, and Viva Glam Ariana Grande 2 Lipglass, a shimmery pale pink lip gloss. All jokes aside, it's important to remember that 100% of the cost of every MAC Viva Glam product is donated to the MAC AIDS Fund, which has currently raised $425 million. So if it's all for a great cause, you do you, Sexy Baby Ariana. We love!!
#ThinkGeekMedia #ContentWithImagination
Courtesy: Fashionista.com