So, what's her story ?  First and foremost, she's a mother of three lovely children, age10, 8 and 4. A full time general and alternative medicine practitioner, and Founder of Noosh Naturals.  Dr Anusha Nair also holds the patent for a medical device she invented. So, one helluva spunky woman you would agree, no? I say YES.
Why would a busy woman with 3 children further venture into a side business?
To answer this, Dr Nair took me 10 years back when her infant son developed a case of severe eczema, of which this new mother knew nothing about on how to handle the malady.
"Trusting a dermatologist would have been the most helpful," she explained drawing from a painful memory. "So, I turned to all the trusted dermatologists in Klang valley who all prescribed steroids. What they were suggesting was not treating the root of the problem. It kept coming back with a vengeance. His skin would peel off in flaps and bleed. Soon I was bandaging my little boy up due to the sores. He would scratch them open, the sores would ooze and bleed more than ever. I was frustrated. Bath time was a nightmare," Dr Anusha shared.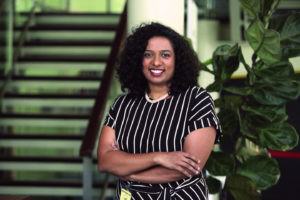 Deciding it was time to take a different approach with the support of her father, an alternative and wholistic medicine practitioner who has been practicing his own unique form of non invasive energy medicine combining Ayurveda, acupuncture, as well as modern medicine, for the last 40 years. "He was my last resort. By then I had stopped working in GH and joined my father in his practice," Dr Anusha elaborated. "I would watch amazed as people with various skin ailments, some so severe they had to be wheeled in on wheelchairs, recover dramatically over a course of a few months. When I joined his practice, I realised how western medicine, a lot of times, doesn't treat problems, but masks them. My father and I would have long debates and challenge each other. I was trained in western medicine and had a tough time changing my school of thought," Dr Anusha reminisced.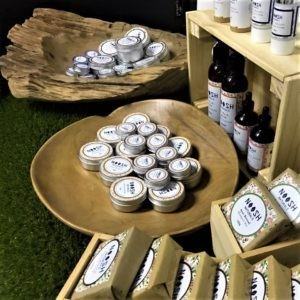 Discovering a natural way to holistic healing 
Through more reading into herbal medicine and helping her father do research for his PHD in alternative medicine, Dr Anusha says she began to understand more about internal body imbalances, Ayurvedic practices, TCM, acupuncture, herbalism, nutritional therapy, and how it could all come together in western medicine to create holistic wellness.
"It so happened that around this time in 2011, that my father's Ayurvedic herbalist friend from New Delhi, India, came visiting. He introduced us to an amazing herb called the sea buckthorn fruit. This fruit has wonderous healing qualities due to the sheer quantity of bio available vitamins and fatty acid content. He urged my father to try some of this miraculous oil," thus beginning an interesting an exciting journey into curiosity meeting science meeting holistic wellness experiments.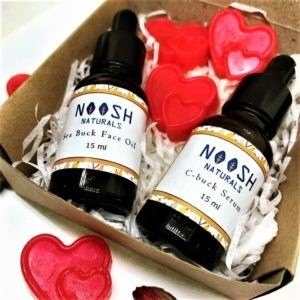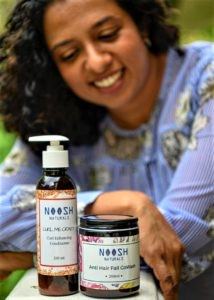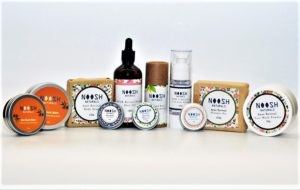 "By using internal balancing treatments as well as incorporating sea buckthorn oil as a balm on my son, I finally began to a change. Four months after we had started on this journey, my son regained his baby smooth skin back."  Prompting Dr Anusha next to try the remedy on her patients. As it began to work for them too, the demand for her treatments began to grow. "I was soon making bigger and bigger batches of  treatment creams," she laughed, now very much a convert from Allopathic medicine to a more wholistic approach of healing.
It was about in 2016, noticing that her father's method was great, but needed to be more user friendly, Dr Anusha started working on a knee strap prototype to help those with osteo-arthritis of the knee. "I managed to patent this design in 2017, and now I'm partnered with University Malaya to further validate its claims. Initial trials show that the inventions give promising results," she beamed. Working from her own personal savings to move the project along and struggling with a lack of funding  – as we know that inventions require money – Dr Anusha shared that her husband stepped in and advised her to explore her entrepreneurial explorations with her successful balms and portions. "He said to me, `Since you formulate these balms very well, why don't you start selling it for real. Not just to your patients, but consumers too, and use the profits to fund your medical research work.' I took his suggestion seriously," she enthused.
The Rise of Noosh Naturals
Thus bringing Noosh Naturals to reality. A curated brand of holistic wellness that draws deeply from Nature, Ayurveda, natural healing and wellness for skin with a range of handmade products for skin and hair. All profits go to fund her RnD work towards her medical research, while still continuing to practice medicine full time and run her father's practise.
"I solely use only Noosh Naturals products for my family. I can rest assure they are not being exposed to harmful chemicals, and are using only the best natural ingredients for their skin. These same products are offered to my clients too," Dr Nair stated.
"Starting this venture has been a learning curve for me. It has been exciting and interesting and frustrating at times being an entrepreneur. I still have a long way to go, but I count every little win as a success. I'm glad I took the plunge out of my comfort zone, but I welcome the challenge. I hope to keep doing this as long as I can," Dr Anusha asserted  confidently. And she will make a great success of it, I tell her.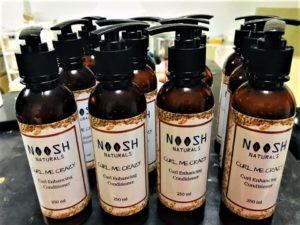 So, here's my testimony to the C-Buck Serum that I have been using for a couple of days, combined with the Seabuck Face Oil (in small drops because of my combination skin, and Malaysia's crazy humid weather 😊). My skin tone has improved, with visibly better skin hydration to support my indoor-outdoors lifestyle.
The Anti Hair Fall CoWash combined with the Curl Me Crazy curl enhancing conditioner (flax seed gel conditioner with the goodness of virgin coconut oil, olive oil, shea butter, also works as a leave-in conditioner), has worked like magic with my hair which has a mind of her own. In the past all curl products have left my hair dry, damaged, heavy and frustrated.
Since I believe internal health is the best health routine to ensure external wellness, take my word, go buy it, and stay beautiful, healthy, happy with yourself, naturally.
Website: https://nooshnaturals.com/
Facebook: https://www.facebook.com/nooshnaturals
Contact: 016-212 7953
Email: info@nooshnaturals.com